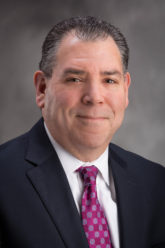 Jan. 16, 2017 — National financial services law firm Maurice Wutscher LLP has added leading bankruptcy and creditors' rights attorney Alan C. Hochheiser as a partner in its Cleveland office.
With experience that spans nearly 30 years of practice, Hochheiser advises and represents businesses, regional and national banks, credit unions, equipment lessors and other lenders, as well as secured and unsecured creditors.
Among his accomplishments, he has successfully resolved non-dischargeable claims based upon fraud conversion and breach of fiduciary issues and has successfully handled the assumption of leases in the bankruptcy of a major airline.
"Al is one of the foremost authorities in consumer bankruptcy law today," said Maurice Wutscher Principal Donald Maurice. "His addition strengthens our consumer financial services practice and sets a bar few can meet."
Hochheiser joins Maurice Wutscher's skilled team of litigators who specialize in appellate matters, business formation and transactions, class action litigation, commercial litigation, construction litigation, consumer credit litigation, contested bankruptcies, contested foreclosures, employment litigation, insurance recovery and advisory services, intellectual property litigation, and regulatory compliance in offices throughout the United States.
He has been named to ALM's list of Cleveland's Top-Rated Lawyers and is peer-rated AV Preeminent by Martindale-Hubbell, the worldwide guide to lawyers.
He is a frequent speaker and author on topics relevant to creditors' rights and bankruptcy law and is involved with a number of professional organizations. He is a Consumer Committee member of the American Bankruptcy Institute and serves as Legislative Committee Chair of the American Legal Financial Network. He is a member of the Commercial Law League of America, an associate member of the National Association of Bankruptcy Trustees and a Creditors Auxiliary member of the National Association of Chapter 13 Trustees.
In addition, he actively volunteers for several civic associations in his community. He is a regular volunteer for the Montefiore Home-Fairmount Temple Mitzvah Corp., Past Vice President of ARMDI and Past President of the Fairmount Temple Brotherhood.
Hochheiser earned his J.D. from Case Western Reserve University School of Law and B.A. cum laude from the State University of New York at Albany.
Alan Hocheiser may be reached at (216) 220-1129 or via email at [email protected].